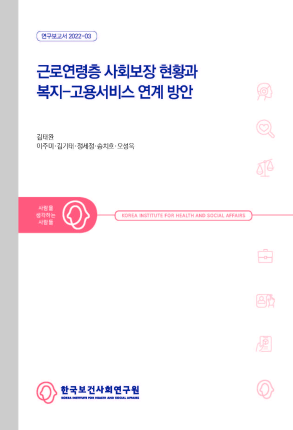 A study on the social security status of the working-age group and the link between welfare and employment services
Author

Kim, Taewan

Publication Date

2022

Pages

195

Series No.

연구보고서 2022-03

Language

kor
In our study, we analyze the current situation of the no-care zone experienced by the working-age group, welfare and employment security services, and propose a linkage between welfare and employment services.
The employment welfare service in consultation is a link between simple employment and welfare. Employment welfare services in a broad sense can include links with various social service areas such as care, education, housing, and health. In order to link welfare and employment, it is necessary to broadly look at the social service categories stipulated by the Social Security Act.
Our study proposes the necessity of introducing a national (appropriate) livelihood security support system and expanding its target and support scale. On the other hand, in order to offset the polarization of labor and business income that occurred after labor market participation, a policy to reduce household expenditure through the publicization of major services is needed.
The delivery system for the National Standards of Living Security requires software integration rather than hardware integration. The front-line organizations that provide services are easily accessible to the public and those who want them, and it is necessary to focus on the eup, myeon, and dong closest to where I live. In addition, the role and function of the Social Security Committee as an upper-level delivery system should be strengthened.