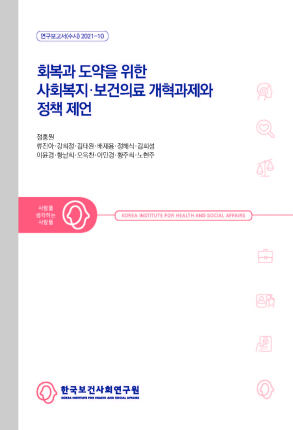 Social Welfare & Health Care Reform Agenda and Policy Suggestions for Recovery and Leap Forward
Author

Chung, Hongwon

Publication Date

2021

Pages

233

Series No.

연구보고서(수시) 2021-10

Language

kor
The purpose of this study is to redefine social problems caused by the influence of COVID-19 and to suggest social security policies to respond to social problems. After COVID- 19, changes in social problems can be classified into newly emerging social problems, social problems that have become more important than before, and social problems that are equally important as before.
The newly emerging social problem is the prolonged social disaster such as pandemics and the resulting increase in the risk of poverty. To respond to these social problems, it is necessary to expand public health care, introduce sickness benefits, and expand the role of local governments.
Social problems that have grown in importance since the COVID-19 crisis are the risk of poverty, social exclusion, and the lack of care services among the vulnerable. To respond to social problems, continuous supplementation and institutional reform of the income maintenance policy, expansion of care services for the elderly, children and the disabled, and strengthening of community-based mental health services are required.
The same important social issues as before COVID-19 are demographic changes and unstable job growth. Reform of the retirement income guarantee policy centered on responding to poverty for the elderly and improvement of the financial sustainability of the social security system are important tasks. To respond to the increase in precarious jobs, it is necessary to expand the coverage of social insurance system. In addition, it is necessary to establish a national social insurance system and a real-time income identification system.
Attachments
첨부파일

연구보고서(수시) 2021-10.pdf